Guest post from Rica Lewis of Yoga Mat Monkey
I've said it before, but I just have to say it again. I'm so glad I have able to have so many great guest posters recently, because I have loved getting to know new and amazing people, including Rica from Yoga Mat Monkey. I love her writing style, her wit, and her outlook on life. Here are a couple of her recent posts that I really loved:
7 Yoga Facts That Challenge Your Excuses
108 Ways Yoga Will Change Your Life
I know you will love Rica as much as I do! This recipe for Banana Pancakes is super simple, and so yummy (I love both of those words so much, and when they are being used to describe a recipe that is also healthy and nourishing, even better)! Enjoy!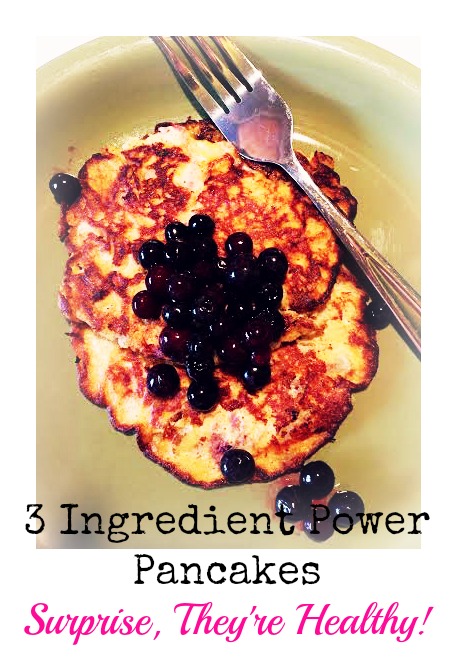 I don't love to cook — there, I said it. I often don't have time to whip up something spectacular, but I do enjoy a hot healthy meal. And pancakes…they're one of my favorite indulgences. However, a hot stack of carb-laden cakes swimming in syrup and butter don't quite make the cut when it comes to eating well. That's why I'm so psyched about this awesome pancake recipe that has just 3 ingredients and won't leave you in a sugar/carb coma post meal. Check it out…
 Healthy 3-Ingredient Banana Pancake Recipe
1 ripe banana
I tablespoon of apple butter (I use Eden Foods Organic Apple Butter)

2 eggs
Mash the ingredients in a bowl (use a fork or potato masher). Prepare a hot skillet with coconut oil or your preferred spray/oil.  Slowly pour batter and then cook as you would a traditional pancake. Beware, these pancakes are a lot thinner and flipping them can be tricky. Turn the delicate structure with care, but don't be too concerned if you break a few. They taste just as yummy when they're crumbled.
** Get creative with your healthy 3-ingredient pancakes. They're flour-less, gluten-free, and great for the  non-cooks and busy moms. Sprinkle them with chocolate chips, crushed nuts, cinnamon, cardamon, or apple pie spice. Anything goes! I topped mine with blueberries for an antioxidant kick. You could try strawberries, sliced bananas, maple syrup, pure honey, or anything you have available. Smear them with an extra tablespoon of apple butter. It's delish!
 Don't be afraid to dig in!
Bio: Rica Lewis is a freelance writer and yoga enthusiast: a flexible word nerd. She is the owner of Yoga Mat Monkey, a wellness site that delivers inspirational content with humility and humor. I.e., she often tells too much for the sake of transparency, and the hope of learning and growing with her audience.
[mc4wp_form]