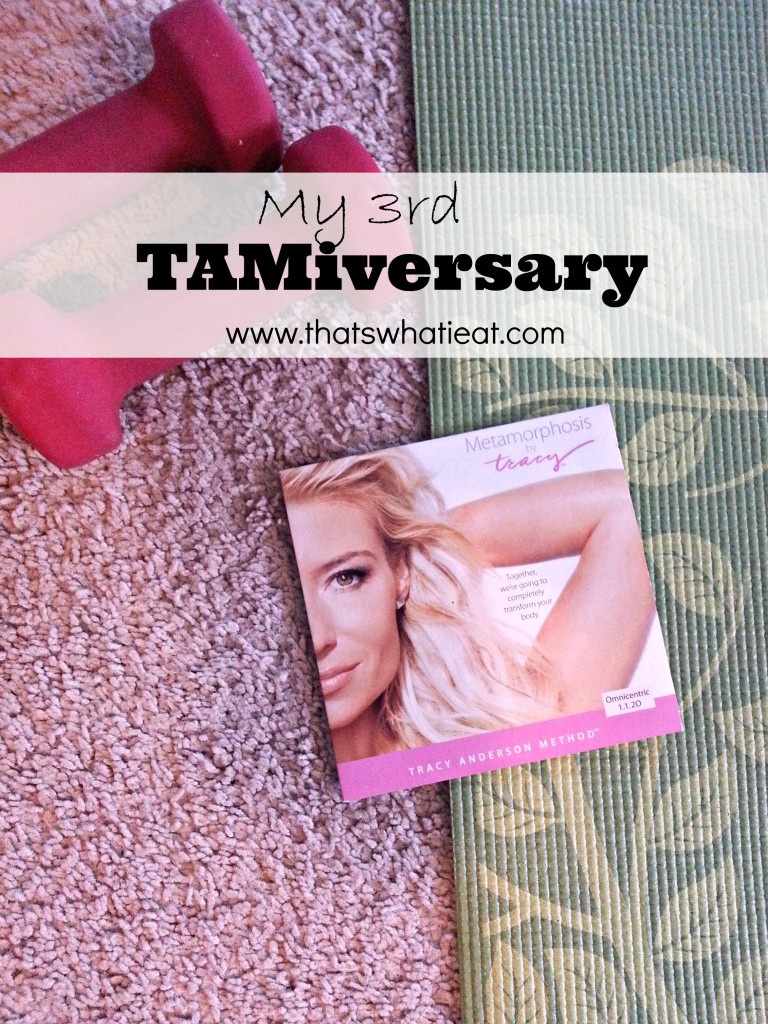 It is my three year TAMiversary! Wow! A little more than three years ago I had changed my diet and was doing some old exercise DVDs, but I was super bored with them and not seeing results very fast. While reading trashy celebrity gossip online one day (yes, trashy celebrity gossip is unfortunately one of my vices), I read that one famous celebrity had lost the weight from her recent baby using the Tracy Anderson Method. My interest was piqued and a short search later I was watching the TAM infomercial.
That's how my love affair with the Tracy Anderson Method began, and the rest is history. Yes, three years later I still love it, though I must admit sometimes our relationship has been a little rocky.
I tend to be the eternal optimist. I just feel that no matter what happens, there has to be a good reason, or the bad times never last all that long, and we'll find a way through. I'd rather talk about the good side of things than the bad. I've been rather optimistic about my TAM thus far, but I must confess that I have been a capital S slacker. Well, I can't really say I've been a slacker overall, I have been working my little tail off at my work and with all my other projects! But between all that work, the holidays, sick kids, and a sick me, there were weeks in December that I only worked out twice, and one week I didn't even exercise at all! So when it comes to TAM, I've definitely been a total slacker.
The number on the scale hasn't budged, but I feel floppy. Now, if you had told me 3 years ago that I would look this way, I would have been thrilled! I am very pleased with how much better I look now. And yet, I still want to get better, to improve. Is that bad? I don't think so. I hope not!
Even though I've been doing this for 3 years, between missing days and me not ordering the next Continuity DVDs in time (oops), I'm still in the middle of year 2. In fact, right now I'm repeating some of the early Continuity levels.
Even with all of this, I still am so happy with the Tracy Anderson Method! I feel so good when I do it, and when I'm consistent, the results are great! I'm also still in love with the fact that I don't get bored because the content changes so often.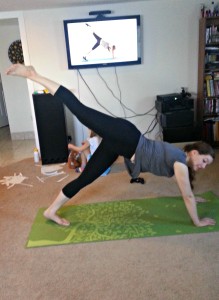 (Disclaimer: That picture is staged. I normally exercise too early for any photographers to be available to take my picture. As it is, my 4-year-old became my photographer, and mixed in with the hundreds of blurry shots, there was this one half decent shot. Oh well, it is what it is!)
I've stepped up my game and am back to 4-5 times per week. I am already feeling better! In this next few months life is going to get less busy, and I plan on getting back to a minimum of 5 days a week soon. With this I'm positive the floppiness will go away, plus I just love the way I feel the days that I exercise!
Have you tried the Tracy Anderson Method? What do you think?
P.S. If you have been wanting to try some of Tracy's stuff, these two DVDs are a great deal, only about $7-$8 right now!
And this is Metamorphosis, the one I started with:
You can read lots more about my love of all things Tracy Anderson on this page.
Tangent: After taking pics of me doing my TAM, my photographer started instructing me in yoga poses to do for her, so here's an outtake for you. I can finally do a crow pose!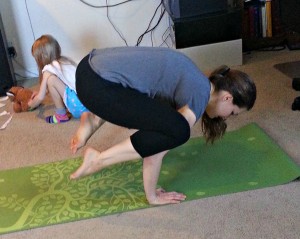 [mc4wp_form]