Truffle Gnocchi with Prosciutto and Cremini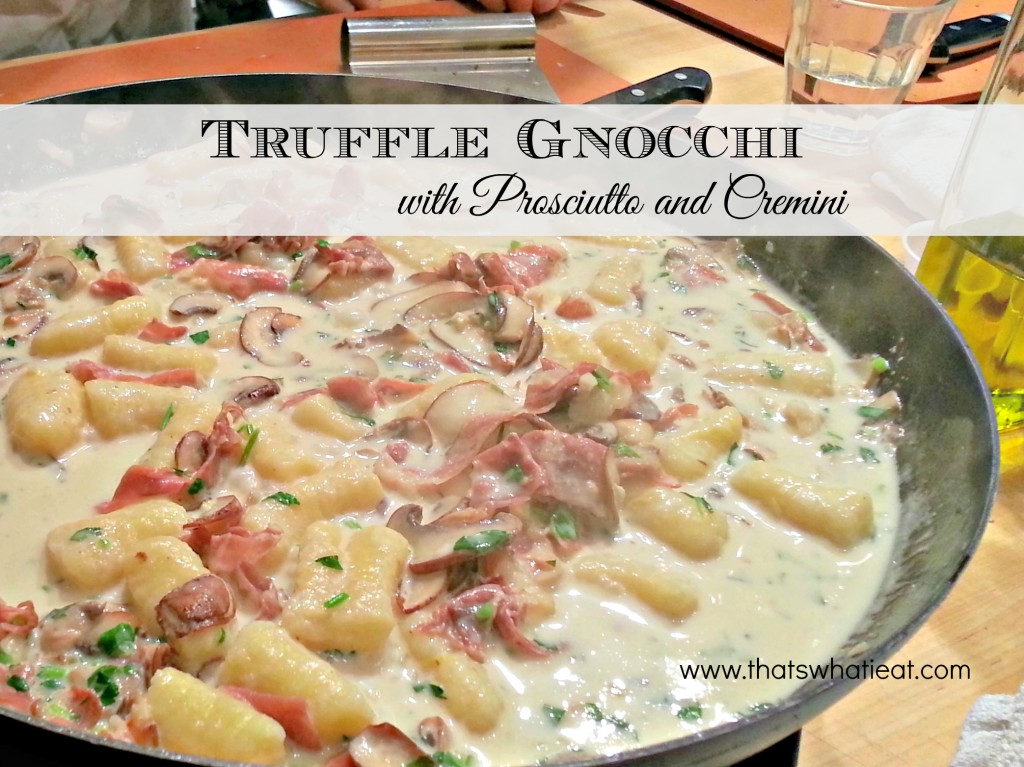 2 pounds Russet potatoes
1-1/2 cups all-purpose flour, plus more for dusting
1 egg, beaten
1 tablespoon truffle oil, plus more for serving (yes, you can leave this out, but you'll be missing out!)
2 teaspoons kosher salt
¼ teaspoon freshly ground white pepper
2 tablespoons olive oil
1 medium shallot, minced
1 clove garlic, minced
4 ounces prosciutto, cut crosswise into ¼-inch strips
8 ounces cremini mushrooms, thinly sliced
1 cup dry white wine (you can use chicken broth instead)
1 cup heavy cream
1 tablespoon fresh thyme
1 tablespoon lemon zest
Kosher salt and freshly ground black pepper
¼ cup minced fresh flat-leaf parsley, for garnish
Preheat oven to 400 degrees and place a rack in the center
Prick potato skins with a fork and place on a rimmed baking sheet. Bake the potatoes until soft, 50-60 minutes
Remove potatoes from oven and allow to cool about 5 minutes. Using a kitchen towel and paring knife, carefully peel potatoes and immediately put through a potato ricer onto a rimmed baking sheet. Let cool completely, 15-20 minutes.
Sprinkle potatoes with flour, egg, oil, salt, and pepper and knead into a smooth, moist dough. Incorporate up to another ¼ cup of flour if it feels sticky. The dough will be quite soft.
Place dough on a lightly floured work surface and cut into fourths. Roll each portion into a long rope about ¾ inch diameter. Using a bench scraper, cut the rope into 1 inch long pieces. Roll each piece with your thumb, forming an indentation on one side. Alternatively you could roll with the back of a fork. Set on a lightly floured surface and cover with a kitchen towel as you form the remaining gnocchi.
For the sauce, place a large nonstick skillet over medium-high heat and add the oil. When it is simmering, add the shallots and cook, stirring frequently, until tender, about 3 minutes. Add the garlic and cook until fragrant, about 1 minute. Add he prosciutto and cook, stirring occasionally, until crispy, about 4 minutes.
Add the mushrooms and cook until soft, about 6 minutes. Pour in the wine and bring the liquid to a boil and cook until it reduces by half, about 4 minutes. Pour in the cream and add the thyme and zest and cook until thickens, about 4 minutes. Taste and adjust seasoning with salt and pepper.
Fill a large pot with water, heat on high and bring to a simmer. Generously salt the simmering water and add gnocchi in batches. When they float, they are done! This takes about 2-3 minutes. Using a slotted spoon or spider, drain and transfer to a serving bowl.
Divide cooked gnocchi between 4 warmed pasta bowls, ladle the sauce over the top, garnish with the parsley and serve immediately with additional truffle oil on the side.
Recipe by
Health by Emily
at https://healthbyemily.com/truffle-gnocchi-with-prosciutto-and-cremini/