How to cook a whole chicken in a crock pot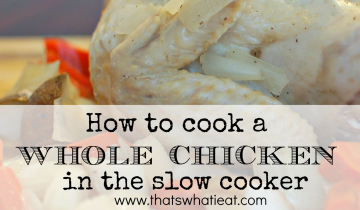 Author:
Emily - www.thatswhatieat.com
One whole organic and/or pastured chicken
1-2 tablespoons butter (best from grass-fed cows)
Salt and pepper
Fresh sage leaves (or dry rubbed sage) and/or other seasonings of your choice
Chopped veggies (I used onion, carrot, and potato. You could also do sweet potato, beets, or anything else that tickles your fancy)
Remove packet of "bits" from inside the main cavity of the chicken
Rub softened butter, salt, pepper, and seasonings between the skin and the meat and on the skin
Put in slow cooker, add chopped veggies over the top
Add more salt and pepper for the veggies
Set slow cooker on high for 3-4 hours, or on low for 6-7 hours.
Be sure to save the extra meat for more simple meals, and save the bones to make some easy homemade soup stock!
Recipe by
Health by Emily
at https://healthbyemily.com/how-to-cook-a-whole-chicken-in-a-crock-pot/