Easy Chicken Soup Tutorial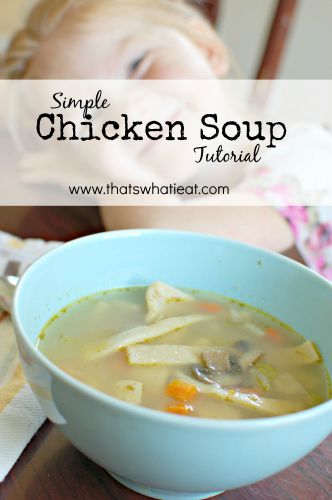 Author:
Emily - www.thatswhatieat.com
1 large onion, chopped
4-5 carrots, peeled and chopped
4-5 celery stalks, peeled and chopped
2-4 tablespoons butter or olive oil
1-2 teaspoons salt
Freshly cracked pepper
Any other veggies you would like to throw in (mushrooms, green beans, zucchini, etc.), chopped
1 clove garlic, minced
1 tablespoon ground sage (or other seasonings, whatever sounds good to you)
1 cup precooked chicken
2 cups precooked rice or pasta
6-8 cups chicken stock/broth
In a large pan, melt butter or heat olive oil.
Add onion, celery, and carrots. Season with salt and pepper and cook until starting to soften.
Add garlic and other veggies. Season with ground sage or other seasonings and cook until starting to soften.
Add in chicken and cooked rice or pasta.
Add enough chicken stock to cover everything.
Cook on medium high heat until the stock is heated through and all the veggies are cooked.
Recipe by
Health by Emily
at https://healthbyemily.com/easy-chicken-soup-tutorial/