Chicken with Warm Mango Salsa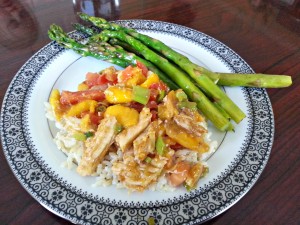 Author:
Emily www.thatswhatieat.com
1-2 Tbsp coconut oil
1 cup shredded, cooked chicken
3-4 small mangoes, diced
4 green onions, roots removed
1 jalapeno pepper, diced small
½ tsp salt
¼ tsp pepper
½ tsp cumin
¼ tsp coriander
¼ tsp garlic powder
3 roma tomatoes, diced
Add coconut oil to a warm pan and allow to melt (you can use olive oil if you don't have coconut).
Add mango, green onion, jalapeno and all seasonings and cook for about 5 minutes.
Add chicken and continue to cook until it is warmed through and the mango starts to break down but still retains most of it's shape, about 2-3 more minutes.
Turn off heat and immediately add tomatoes. You want this to cook long enough that the tomatoes are warm, but not long enough for them to break down at all.
Serve over brown rice or quinoa. This has even better flavor if the rice is cooked in coconut milk!
Recipe by
Health by Emily
at https://healthbyemily.com/chicken-with-warm-mango-salsa/