Pho - Vietnamese Beef Soup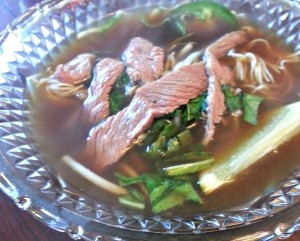 Author:
Emily www.thatswhatieat.com
2 tablespoons olive oil
2 minced garlic cloves
1 small onion, chopped
3 inch piece ginger, thinly sliced
12 cups beef stock
2 cinnamon sticks
2 star anise
2 lemon grass sticks, slightly bruised
2 tablespoons fish sauce (Hint, don't smell this before you put it in. Just trust.)
2 tablespoons liquid aminos (or soy sauce)
2 teaspoons raw honey
2 lb brown rice noodles
7 oz beef eye fillet, very thinly sliced (if you freeze the meat before slicing, it is easier)
2 cups bean sprouts
Fresh basil leaves
Limes cut into wedges
Jalapenos, cut into slices
Plum sauce
Heat the oil in a large stock pot.
Add the garlic, onion and ginger and fry 2-3 minutes. This will smell amazing.
Add 8 cups of water, beef stock, cinnamon, star anise, lemon grass, fish sauce, soy sauce and honey.
Bring to a boil and then turn to low and simmer for 30 minutes.
Allow to cool for a few minutes and then strain the stock and return it to the pot.
Return it to a boil. You want this very, very hot, boiling like crazy!
Prepare the noodles per the package instructions.
When the noodles and broth are ready, put the noodles in the bottom of the bowl, then add the raw meat.
Layer in the other "toppings" at this point; the bean sprouts, basil and lime and a jalapeno slice or two.
Pour the broth over, watching the meat as it cooks more with each scoop.
Add a touch of plum sauce and enjoy!
Recipe by
Health by Emily
at https://healthbyemily.com/pho-vietnamese-noodle-soup/