I have exciting news! I have decided to introduce you to some of my wonderful, like-minded friends. I have invited several of them to do a guest post for me, which I will be posting on Fridays for the next little while. Yes, I know today isn't Friday, but last Friday snuck up on me. I'll have a new friend to feature on this coming Friday. Without further adieu, I'd like to introduce my friend Priya.
Hi, this is Priya, from the blog Cookilicious. It is a vegetarian/vegan food blog. All recipes here are tried and tested in my kitchen. The recipes are multi cuisine and healthy. There is something in here for everyone. I have been cooking since I was a child along with my mom. Plus having studied Health & Nutrition in college surely does come in handy today.
To sum it up – I am a recipe generator, passionate about food photography and an always ready host!
About the recipe Egg Biryani – This is an Indian way of making Egg fried rice. The spices enhance the flavor of the rice when mixed with boiled eggs. This recipe was originally posted on my blog, here.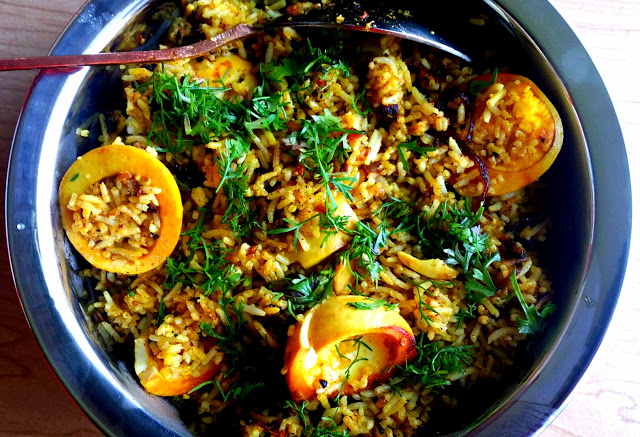 Egg Biryani
Author:
Emily - www.thatswhatieat.com
Ingredients
6-8 boiled eggs
1 tsp chilly powder
1 tsp turmeric powder
1 tsp salt
1 tbsp oil
For the Biryani
1 large onion, finely chopped
2 tomatoes, finely chopped
3-4 green chilies, slit or finely chopped
1 tbsp ginger garlic paste
Mustard and cumin seeds for tempering
1 tsp each – chilly powder, turmeric powder, dhania jeera powder, garam masala and biryani masala
½ cup curd
Cilantro for garnish
1 tbsp lemon juice
Salt to taste
1 tbsp oil
2-3 cups of basmati rice
Whole garam masala – 1 bay leaf, 2-3 cloves and 1 cinnamon stick
1 large onion, deep fried
Kesar/Saffron dissolved in 1 tbsp warm milk
Instructions
irst to fry the boiled eggs. In a flat bottomed pan, add oil, once it is just warm, add the chilly powder and turmeric powder with little salt. Mix it and then add the eggs cut in half. Mix lightly ensuring the eggs don't break. Fry on both the sides till the eggs are coated well. Once done, keep aside.
Soak the basmati rice for 15 minutes and then cook it in a rice cooker. Add bay leaf, cloves and cinnamon before cooking. Once the rice is cooked, separate the grains by spreading it on a plate. Keep it aside.
In another thick bottomed pan, add oil, temper the mustard and cumin seeds. Once they crackle, add the onions, green chillies and ginger garlic paste. Fry them for a minute till the onions become translucent. Now add the tomatoes with little salt. Cook till tomatoes become pulpy. Add all the dry powders – chilly powder, garam masala, turmeric powder, garam masala, biryani masala, dhania jeera powder. Mix and fry for a minute. Add the curd and salt. Cook for another minute till the oil begins to leave the sides. Curd is added so that the masala does not stick to the pan. Once done, add the fried eggs. Toss them in lightly so that they don't break. Now add the rice. Do not mix it with the gravy yet. Sprinkle the fried onion over the rice. Then sprinkle the saffron flavored milk over it. Cover the pan with a tight lid and let it cook for 10-15 minutes. Once done, mix it well, sprinkle cilantro and lemon juice.
Your Egg Biryani is ready to be served. You can enjoy this with a raita and papad.
You can follow Priya and Cookilicious on Facebook here, on Instagram right here, on Twitter right here, and on Pinterest right here.
[mc4wp_form]