Today I'm excited to introduce you to yet another of my like-minded friends. Although we just "met" each other recently, I adore Isabel's blog, From Cats to Cooking. And today she's here to talk pumpkin! I am so glad pumpkin season is back! I shouldn't work on posts about yummy food like this while I'm hungry, I may or may not have drooled all over my keyboard. I hope you enjoy getting to know Isabel!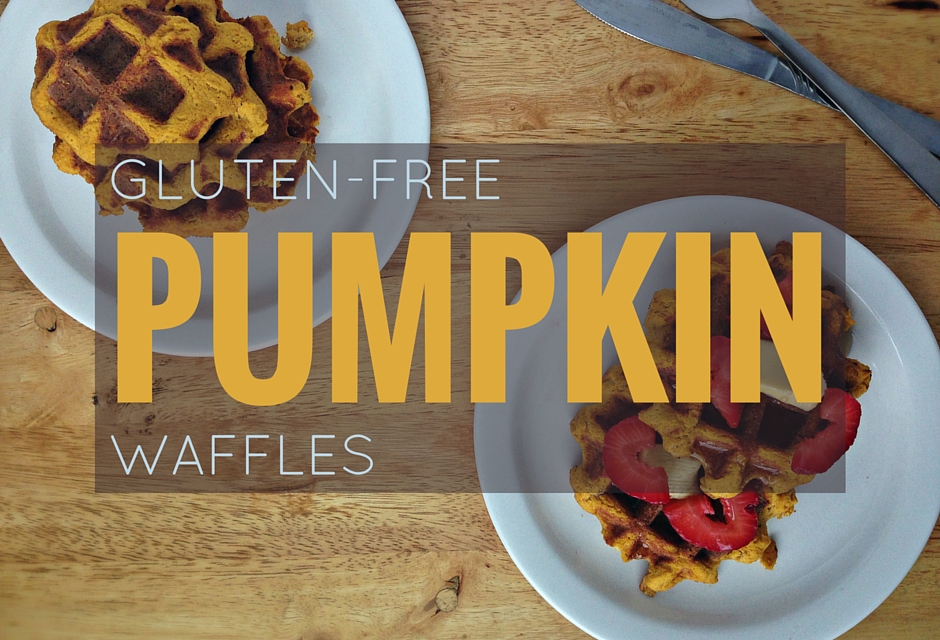 Halloween is still a few weeks away and I have one important question to ask you: are you sick of pumpkin yet?! All those pumpkin-flavored drinks, desserts, soups and anything you can think of made out of pumpkin? Well I sure hope not because today I'm sharing a recipe for gluten-free pumpkin waffles that's perfect for breakfast, brunch or brinner. You know, breakfast for dinner – brinner. But before I get to the really good stuff, let me introduce myself.
Hi! My name is Isabel and I blog over at from cats to cooking where I love creating delicious, real food recipes that range from the healthy, great-for-leftovers weeknight meal to the super-indulgent, special occasion feast. Like Emily, I focus on eating unprocessed, real food in a healthy, sustainable way. That's why I'm so excited to be guest posting today! A big thank you to Emily for letting me connect with all of you. Eating healthy, real food doesn't have to be boring. Just keep reading and I'll prove it to you!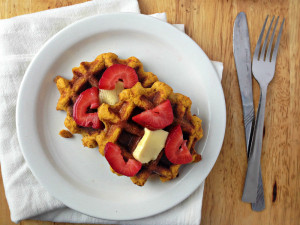 What's better than pumpkin waffles topped with maple syrup, sliced strawberries and a dab of grass-fed butter on a chilly morning? Nothing. Except maybe winning the lottery, but that's highly unlikely. This, on the other hand, can easily be accomplished if you have a waffle iron. I say easily with some hesitation because having some experience with actually using a waffle iron is helpful. Believe me, I learned the hard way. Just take a look at this picture I posted on Instagram of my first failed attempt at making waffles. But don't worry, I'm sure that won't happen to you! Not only was that my first time using a waffle maker, that was also my first version of the recipe and it was just a bit too runny. I made some tweaks to the ingredients the second time around and voila! These pumpkin waffles formed perfectly and tasted amazing.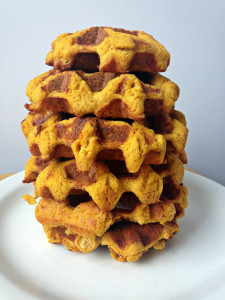 These waffles are such a great addition to my weekend breakfasts, especially when I'm in the mood for something sweet. Oddly enough, that isn't very often, at least for my first meal of the day. I'd much rather have something sweet at the end of my day, after dinner. Give me a scoop of strawberry ice cream any day (preferably in a cone). But in the mornings, I'm a big scrambled eggs/omelet girl, especially when going out to a restaurant for brunch. There's just something about a restaurant omelet that makes it so much better than any omelet I've ever made – the ratio of filling to egg, the size of the pan/griddle they use, the thickness of the omelet, everything! Oh well, all that means is that I need to work on my omelet-making skills. No big deal.
Gluten-Free Pumpkin Waffles
Author:
Emily - www.thatswhatieat.com
Ingredients
½ cup pumpkin puree
1 cup blanched almond meal/flour
2 eggs
½ cup cashew milk
½ tsp cinnamon
¼ tsp vanilla extract
½ tsp baking powder
Coconut oil for greasing waffle iron
Instructions
Plug in and preheat waffle iron on low setting.
Put all ingredients in blender.
Blend until smooth.
Liberally grease the top and bottom plates of the waffle iron with coconut oil.
Ladle ⅓ cup of blended batter (or amount specified by your waffle iron instructions) into the center of the waffle plate.
Close the waffle iron and let cook about 7 minutes. If the waffle iron is still steaming, let cook longer.
Open waffle iron, remove waffles with rubber spatula and eat up!
Notes
If you don't have cashew milk, feel free to substitute it with any kind of milk you have.
BIO: Isabel is a real food blogger who loves creating and eating recipes made with good-for-you, unprocessed ingredients that lead to a deliciously sustainable lifestyle. She lives in Pittsburgh with her significant other and their cat, Charlie. Her hobbies include gardening, strength training and knitting when it's cold outside.Connect with Isabel on her blog at from cats to cooking, Pinterest, Instagram, Facebook and Twitter.
[mc4wp_form]