I have a special gift for you today! You see, here's the trick. You are going to eat the food you have around you. It sounds obvious, right? And yet I have so many clients who can't understand why they are having trouble losing weight, and when I ask what is in their cupboards we discover that they are keeping kryptonite right there in their own homes.
The best way to fix this problem is to make sure you are surrounded by Real Food, food that nourishes you, body and soul. But how do you know what to buy?
And now my gift for you, behold!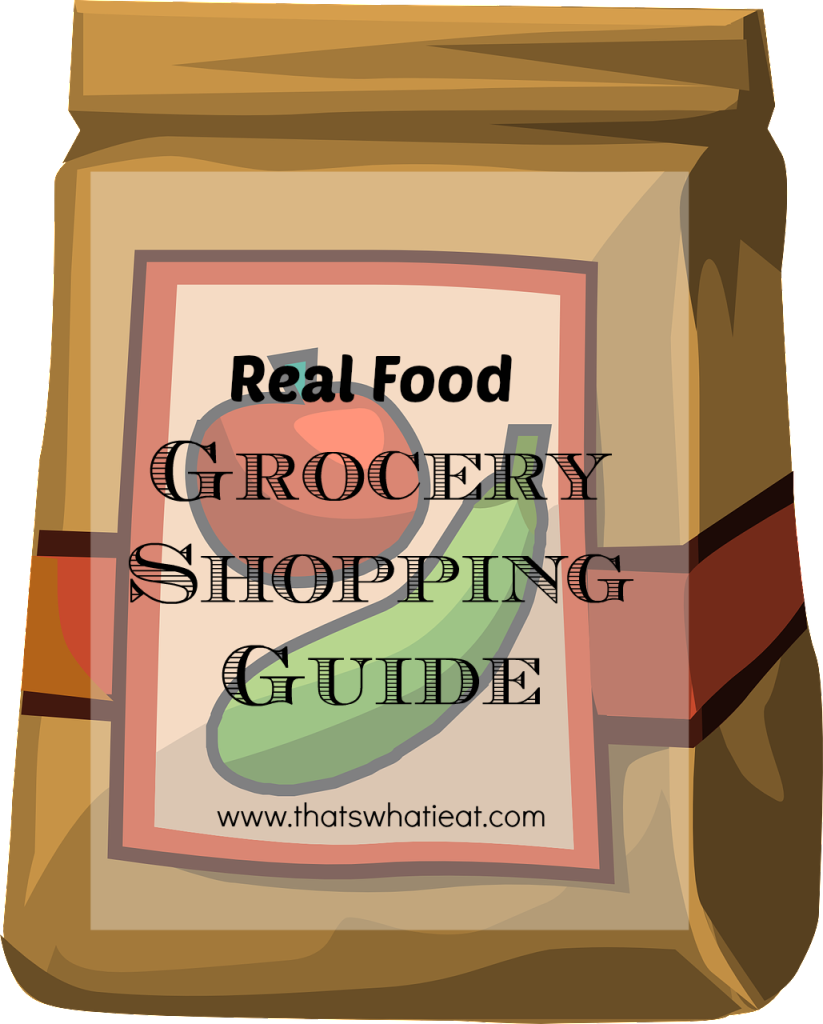 Here is a great list to get you started. If you fill your cart with these items, you can start to crowd out the processed foods in your life!
PRODUCE SECTION: There is not much in the produce section I would avoid buying, this is the happiest place in the store! Fill your cart with lots from this section! Especially grab organic, seasonal produce; both things that you know and like, and new things you would like to experiment with. Here are a few of our produce staples:
Greens, always tons of greens! We get spinach or kale for smoothies, and different kinds of lettuce for salads. I also love the different kinds of chard or greens to saute.
Bananas. We eat SOOO many bananas! These mostly get used in smoothies.
Onions, carrots, and celery. If you chop all these up together, you have what's called a mirepoix, which is the base of many different dishes, like soups, chicken pot pie, etc.
Lemons. I start every day with a mug of warm lemon water. This helps detox your body and boost your metabolism. Plus it's comforting and yummy!
Seriously, just fill your cart with as many fruits and veggies as you can, you can't really go wrong here!
DAIRY: 
Whole milk from grass-fed cows, organic if possible.
Butter from grass-fed cows, organic if possible.
Full fat cheeses from grass-fed cows, organic if possible (do you sense a theme?).
Eggs from pastured chickens.
FROZEN: This is another place to load your cart with produce! I also recommend grabbing organic when you can here in the freezer section.
Assorted frozen fruit: This is great for smoothies, it makes it more the consistency of a milkshake!
Assorted frozen veggies: It is also great to have frozen veggies on hand in case you ever find yourself making dinner and realize you're out of fresh ones.
Blueberries, organic and wild, if possible. I always have blueberries! We love them in smoothies, of course, but also in oatmeal, granola, or just plain out of the bag.
Wild caught fish: Great source of those omega-3 fatty acids!
MEAT: 
Chicken: Pastured chickens from a local farm are best. Organic is a close second, but try to avoid the cheap conventional chicken.
Beef: Grass fed beef is best, organic if possible.
Bacon and sausage: From pastured and organic pork is best, but also keep an eye on the ingredient list. You want these to be free of nitrites, nitrates, and MSG.
Wild caught fish: Ask them how fresh this is, and even ask to smell it. It should smell like the ocean, but not smell fishy.
PANTRY: 
Oats: Not quick cook, as thick cut as you can get them. Also steel cut oats for cooking in the slow cooker overnight.
Whole wheat flour: Organic if possible.
Brown rice: If you soak this for a little while before cooking, it makes more of the nutrition accessible to your body.
Quinoa: This little grain is nutrition-packed, and is a complete protein!
Honey: Raw and local.
Real maple syrup.
Dried beans/chickpeas: These are cheap, easy to cook, yummy, and so good for you! I especially love using the dried chickpeas to make hummus.
Sunflower seeds: For being made into granola, topping for salads, or just snacking on. Raw is best.
Coconut oil, olive oil, and avocado oil: Vegetable oils, including canola and soy, do some nasty things to your body, so I definitely suggest these healthier oils.
Applesauce: Organic and with no sugar added. I love to use this as an oil replacement in recipes when I'm baking!
Chia seeds: Little nutritional powerhouses! I love these for smoothies.
Flaxseed: More little nutritional powerhouses!
A hearty whole grain bread. Really read the ingredient list on this one! The bread should have few ingredients, and you should be able to recognize all of them as things you would use in your own kitchen!
Chocolate: An organic, dark chocolate. Everyone needs a treat, and this one is healthy for you! (When eaten in moderation, of course!) My go-to chocolate is Green and Black's Organic dark chocolate, yum!
What's on your must-have Real Food shopping list?