Disclaimer: Pizzeria 712 has not given me anything to talk about them, and had no idea I was going to do a review. I just love to blab about the things I like!
When I was in high school I worked at a pizza/sandwich shop. We did make our dough in house using normal ingredients you would find in a grocery store, which really set us apart from the other pizza places, but even so we still had weekly deliveries of processed frozen sausage chunks and huge bags of sliced pepperoni filled with nitrates and nitrites. Pizza has always been my thing, and back in our processed food days we always were well stocked with nasty frozen pizzas, and usually had a delivery from one of the big chain places at least once a week. Pizza was always my backup, but now that we have changed everything about the way we eat, we make most of our pizzas from scratch.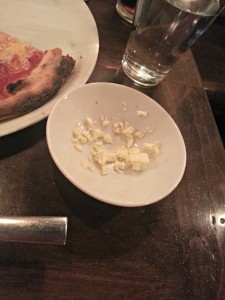 We have been searching for restaurants that serve local, delicious, and clean food. It's really hard to find! That combined with our aforementioned love of pizza made us so happy to find Pizzeria 712 in Orem, Utah.
Here's what I love. As you look at the menu, it tells you where your food comes from. For example, we ordered the marinated feta cheese from the Rockhill Creamery. The eggs are from Clifford Farms, and  the apples are from Allred Orchard. It is so wonderful to go to a restaurant and know where your food comes from!
And get this, at one point I was taking my daughter to the restroom, and I noticed some guys doing something in the open kitchen. I only had to watch for a second before I realized that they were pulling mozzarella. It was so fun to watch them make the cheese that would very shortly be put on the pizza. Have you ever been to a pizza place that makes their own cheese right there on site? Fresh cheese tastes so much better!
So, the final verdict: The food was delicious, and cleaner eating than any other restaurant we have found. The waitress was delightful and told my girls they were beautiful, which is a sure way to win my heart (and a nice tip!). We had a great time, and will definitely be back.