Healthy School Lunch Ideas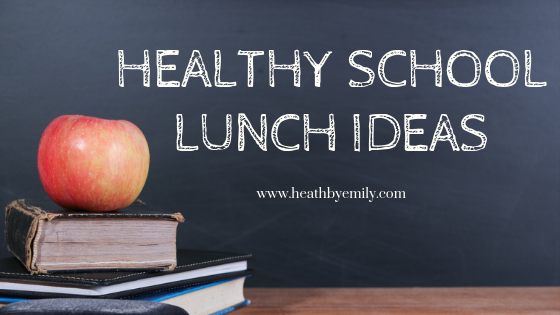 August? What? How the… When did you get here? Did August sneak up on anyone else? I feel like that was the shortest summer ever, and I can't believe my kiddos are back in school already.
Do you feel as behind as I do?
Since the school year is here even though I'm not ready, how about we talk about all things school lunch?
Part of making school lunch a success is having the right tools, so I'm going to share a few of my favorites. (Click the pictures to link to the product on Amazon. These are affiliate links, you get the same great price and I get a very small commission.)
Insulated lunch box – we ones that are about this size and shape because they easily fit all our different lunch containers.
Divided plastic containers – We use these so much! They are good not only for lunches, but to take snacks to the movies (sshh, I won't tell), breakfast to the grandparents, or even just for a fun lunch at home.
Containers with screw-on lids – These are what we use for anything that could leak like yogurt or applesauce. We love that it's easy for our daughter to twist the top off of these. Make sure to think about if your littles can open the containers! We made that oops at first.
Thermos – This is probably the thing I am most glad that we purchased for lunches! I love that I can send my kids with a hot lunch, especially on those really cold days. We do tons of leftover soup, so this piece is crucial.
Water bottle – Your kids don't need anything more than water! You can dress it up if needed with some lemons, lime, cucumber, etc. in the drink. Even just some ice in the cup can help kids be more open to plain water. We love this water bottle, a thermos type like this will keep the water colder, which makes it easier to drink for those who aren't water fans.
Ice packs – We like these ones, but there are lots of great options!
Silicone cupcake cups – These are great for when the divided containers just aren't quite divided enough.
Popsicle molds – Leftover green smoothies are a great "treat" lunch, or after-school snack. We like these ones:
Of course, you don't need to go buy all of these things, start with one or two that you feel you would use the most.
Here are some tips and tricks that really help us send a healthy lunch each day:
Pack lunch the night before as you are preparing dinner
Have the kids help or do it themselves
Use up leftovers
Keep a freezer stash (see below)
Pack water as the beverage
Pack at least 2 different kinds of produce in each lunch
Here is what I like to keep in my freezer stash:
Frozen fruits and veggies
And last but not least, you need some ideas of what to send in those lunchboxes!
Here are some quick ideas.
(Again, I recommend sending at least two different kinds of fruits or veggies in each lunch.)
Quesadillas and homemade salsa
Yogurt and granola
Pizza bites
Lunchmeat wraps
Homemade soup or chili
Refried beans with cheese
Sandwiches with unprocessed ingredients
Waffle sandwiches with cream cheese filling
Frozen smoothie pops
Quinoa salad
Homemade lunchables
Leftovers
Mini quiches
Hard-boiled eggs
Phew! That's a lot of info! Do you feel more ready for school to start? What are your favorite school lunch ideas? Don't forget to pin this page for later.
Have a great school year!