Welcome to my first Wednesday Real Food Recipe! I am so excited, I have received some amazing, definitely drool-worthy recipes that I can't wait to share with you from some really wonderful food bloggers. This is going to be so fun!
To start it all off I'm going to share one of my own recipes. You see, it was my birthday this past Monday. The day before that I got together with my family and didn't skimp on the cake and ice cream. Then on Monday night my sweet Marquis took me out to eat, and we brought home this bad boy: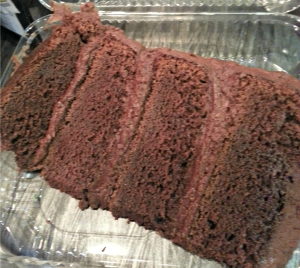 Crazy, right? This thing could feed an entire third world country. Let them eat cake, indeed.  And how can someone like me eat something like this (yes, I did) and not gain weight? I have discussed compensation before so I'm not going to repeat any of that today, and instead I'm going to share one of my favorite compensation lunches.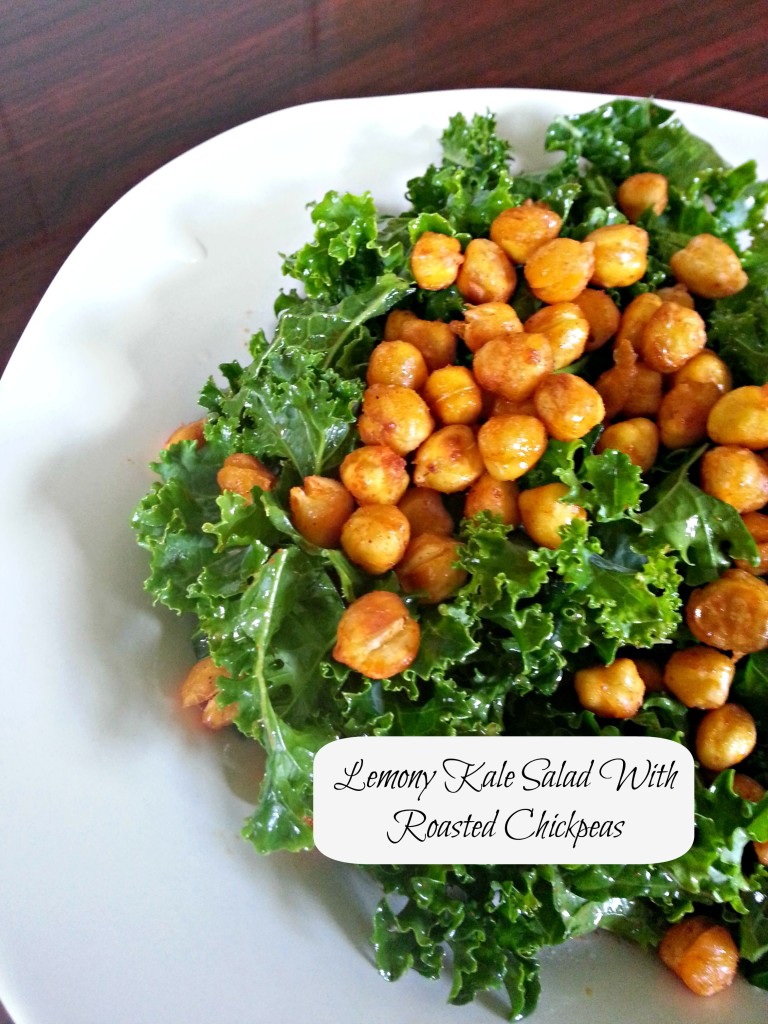 This salad is fantastic for those compensation days because it is full of lots of flavor so you don't feel like you are missing out on anything. Kale is incredibly nutrient dense. Most of those vitamins are fat soluble, which means you need fat in order for your body to be able to use those nutrients, which is why the healthy fat in the olive oil is perfect. The chickpeas are loaded with vitamins and protein and help you feel full longer. If you aren't a kale fan you can use spinach, but I love the kale, especially since I have some growing fresh in my garden!

Lemony Kale Salad With Roasted Chickpeas
Author:
Emily - www.thatswhatieat.com
Ingredients
½ can (or ¾ cup) chickpeas
1 tablespoon olive oil
¼ teaspoon salt
¼ teaspoon paprika
Juice of half of a lemon
Large handful of kale
Instructions
Preheat oven to 375.
In a bowl, toss the chickpeas in the olive oil, salt and paprika. Spread on a baking sheet and place in oven (keep the bowl, you aren't done with this yet).
Bake for 12-15 minutes or until golden and slightly crunchy.
While chickpeas roast, add lemon juice to the bowl where you mixed the chickpeas (depending on how juicy your lemon is you may not need the entire half, you want about a tablespoon). There should be some olive oil remaining in the bowl, but you can add another teaspoon or so if it is dry. Whisk together until thoroughly combined.
Add kale to bowl and toss in the dressing until coated.
Top with warm roasted chickpeas and enjoy!
I am still taking submissions for the Wednesday Real Food Recipe, so if you have a delicious recipe made from real food ingredients, please send it my way at Emily@thatswhatieat.com. You can find all the details right here.
(I have linked this post to the Fresh Foods Link Up over at Gastronomical Sovereignty, come see the rest of the great links here).