The menu is late this week, today was the celebration of my grandparents' 60th wedding anniversary, which was super fun! It did push our normal Saturday around a little, but I don't mind if it means we get a fun day with fun people celebrating an amazing achievement. Plus, my beautiful stepdaughter is in town from California for the week and so we've been playing hard and eating all her favorite foods.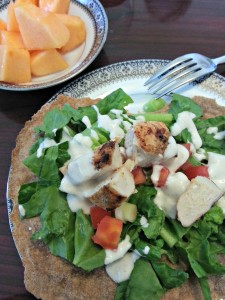 Sunday – Find your own. This was supposed to be tostadas, but when it came time for dinner we discovered that we didn't actually have the grilled chicken that we thought we had, and so dinner turned into granola for me and the girls and some Cornish pasties we had in the freezer for Marquis. Oops!
Monday – Taco salad. We warmed up some chili that Marquis made previously and we had frozen. We threw that on some lettuce and topped with tomato, avocado and crushed corn chips. This is the day that my stepdaughter flew in and we needed something fast and easy!
Tuesday – Tostadas, for real this time! Marquis grilled some chicken so we had meat! I had made these tortillas previously and I baked them on a rack in the oven until they were crispy. We topped it with some lettuce, tomato and avocados and Marquis made us a yummy sauce to go on top by mixing some plain homemade yogurt with some cumin, chili powder, garlic powder, onion powder and salt.
Wednesday – Grilled pork tenderloin, grilled yellow potatoes and grilled zucchini. I love our grill! Marquis seasoned the pork tenderloin with whatever looked good in the spice cupboard that day. The potatoes were so super simple, and so brilliant. We had some small yellow potatoes which he washed and then salted, then threw on the grill. When they came off we just smushed them and added the teeniest bit of butter on top, and they were so perfect!
Thursday – Pho, aka, Vietnamese beef soup. I'm going to add the recipe for this one this week, so super yummy!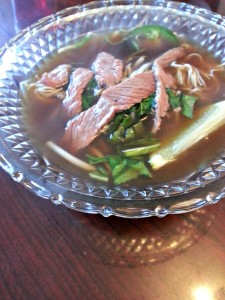 Friday – Asian turkey cabbage cups. This is one of our all time favorite meals! This time we made it with ground chicken, though, just to change things up a bit. The recipe is on my family blog here.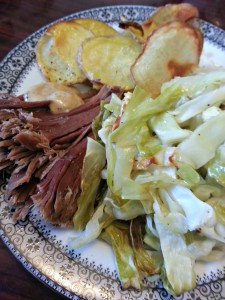 Saturday – Corned beef and cabbage. What? It's not St. Patty's Day, you say? Well, my stepdaughter was in California  and didn't get to enjoy it with us, plus Marquis made 3 of them back in March (using this recipe) and we froze the extras. He cooked one in the pressure cooker today. While he did that I sliced potatoes very thinly, tossed them with olive oil and salt and baked them to make homemade potato chips. I also chopped up a bunch of cabbage and also tossed that with olive oil and salt and pepper and roasted that in the oven, too.