Do you ever have one of those weeks where you feel like you are just hanging on for dear life, running as fast as you can from one thing to the next, trying to find a spare moment to take a breath before moving on to the next thing? That's what this past week has been like, and I couldn't even tell you what I was doing that made it so busy. In any case, I only got pictures of three of our meals. Oops! Oh, well, I'm just glad we made it through, and I'm hoping this next week has a bit of a slower pace!
Sunday – Family dinner, Yankee stew. This was dinner at my parent's house. They made the stew so I'm not sure exactly how they did it . This recipe seems to be the closest I could find, but throw in some blanched broccoli, too.
Monday – Crock pot beef stroganoff. I love this stuff, and it is so easy! The recipe is here. Stroganoff is typically served over egg noodles, but with my daughter's egg allergy we just use whatever egg free pasta we have in the pantry and it works out fine. Use a whole grain pasta with few ingredients if you want to go really clean eating, or just make your own! We had Brussels sprouts on the side, sauteed in butter and with a touch of honey thrown in at the end.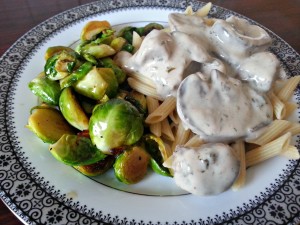 Tuesday – Frozen lasagna. A month or so ago my hubby Marquis made lasagna. When he does this we have him make tons so we can freeze a few extras. We had something else on the menu for this day, but between me needing to be working instead of cooking and us not having gone to the grocery store for the week yet, dinner turned into frozen lasagna. And this is WAAYY better than the boxed stuff you get in the freezer section of the grocery store! We had artichokes and cauliflower on the side. If you need a lasagna recipe, there are a bunch of yummy ones here.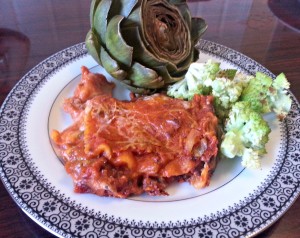 Wednesday – Nachos. I needed another super fast, easy meal, so I warmed some homemade chili that we had frozen, whipped up my favorite cheese sauce (recipe here, but using cheddar), chopped up some veggies into a quick salsa (2 tomatoes, 1/2 onion, 1 jalapeno, cumin, garlic salt, pepper) and voila! Dinner in about 15 minutes. You could use any kind of taco flavored meat in place of the chili, whatever you've got on hand. The kids especially loved this one! If you need a lasagna recipe, there are a bunch of yummy ones here.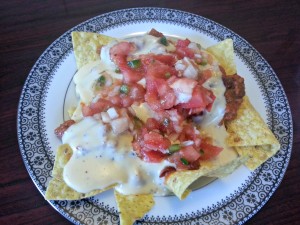 Thursday – Marquis had a work dinner, I had had yet another crazy day, so we ended up just eating leftovers. I had more stroganoff, the girls had lasagna. Boring, but simple, and who doesn't need a leftover night from time to time? And actually, half way through this meal my sister from Missouri suddenly knocked on my door. She had just decided to drive out for her son's spring break without even giving me any warning, she had a stack of pizza, and wanted us to join her at our parent's house. So really my girls ended up eating pizza for dinner, too.
Friday – Sloppy joes/jalapeno mac'n'cheese. This night was crazy. In my church I am one of the leaders of a group for the 8-11 year old girls. We had a super fun activity for a daddy-daughter night, and we served sloppy joes. This was not clean eating at all! The sloppy joes have lots of ketchup (high fructose corn syrup), brown sugar, and they were served on white buns. I'm now pondering how to clean up the recipe because I think it has potential, but I did cringe a little inside while eating it. This did leave Marquis on his own to feed the girls, so he whipped up a homemade jalapeno mac'n'cheese. He made our favorite cheese sauce, mixed it with some cooked pasta, chopped jalapeno and diced ham, then topped it with some panko bread crumbs before putting it in the oven.
Saturday – Family dinner, Hawaiian haystacks. This time we were hanging with Marquis's crew. They pulled out a recipe that I have posted on this blog before, this one. Marquis made the sauce and that boy can't follow a recipe to save his life, but what he did was fairly close to this. Gotta love haystacks!