Sunday – Family dinner, corned beef, cabbage, hamburgers (for those crazy people who don't like corned beef), salad and green Jello goo. We sure seem to have a lot of family get-togethers recently! We brought the corned beef. It was just a corned beef we picked up at the grocery store, but in the fridge we currently have this recipe brining so it will be all ready for our own special belated St. Patrick's Day celebration this coming Friday.
Monday – Asian turkey cabbage cups. This one is always a winner! The recipe is on my family blog here.  This is one the kids always eat without complaint and ask for more, even though it's served on a giant, green leaf! It's also a super fast and easy meal to throw together, perfect for a busy day. I'm going to experiment with using honey instead of the brown sugar to clean it up even more, I'll let you know how that goes. Also, this recipe barely feeds our little family, if you are feeding more than two adults and two littles, you will want to double the recipe.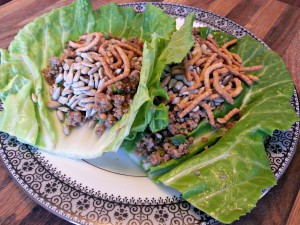 Tuesday – Spinach salad with warm bacon dressing. Yes, this is a site about getting healthy, and here I am posting a recipe that involves using bacon grease in a salad dressing. Don't worry your pretty little head about this one, bacon is good for you! I'll explain more about that later, but for now the recipe is here. We leave the eggs off because of the whole egg allergy thing, but feel free to still use them. We also saute the onions and mushrooms in the bacon grease for a few minutes before making the dressing. This is another recipe that is super fast and super easy, and yet so yummy! It doesn't get better than that!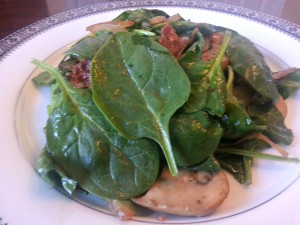 Wednesday – Cajun chicken with pepperjack and spinach, honey whole wheat skillet bread and sauteed asparagus. The recipe for the chicken is here, although I got lazy and didn't actually stuff the chicken. I just didn't want to spend all that time pounding it flat and then trying to roll it all up together and stick in a billion toothpicks (not that it would have taken very long). Instead I brushed the chicken with olive oil, put it in the seasoned breadcrumbs and then into the pan. I then put the spinach on top with a slice of the cheese on each piece and baked it. The recipe for the bread is here. In hindsight I realize that spicy chicken plus sweet bread doesn't really go together. I should have probably gone with this version, which is very similar but more savory than sweet. For the asparagus, I finally have joined the coconut oil bandwagon and decided to try it out by sauteing the asparagus in it. All I have to say is yum! With just a teeny bit of salt and pepper on top this turned out so good!
Thursday – Fish chowder. This wasn't on the menu, but this day was a rainy day just perfect for soup, and Marquis decided to make me chowder with some Moki we had left. Like pretty much everything Marquis cooks, there is no recipe. This one is pretty close, he just used diced carrots instead of the mushrooms and heavy cream instead of evaporated milk.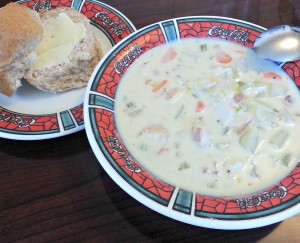 Friday – Real corned beef and cabbage, mashed potatoes and broccoli greens. Corning your own beef seems excessive, but wow is it ever worth it! It involves making a brine that you let the meat soak in for about 10 days. This is an old preservation method, you are basically pickling the meat. The recipe we use is here. The cabbage was tossed with some olive oil, salt and pepper and roasted in the oven. Simple but yummy! The broccoli greens were sauteed in butter with a touch of salt and pepper. Again, super simple. Marquis whipped up a creamy gravy with a touch of mustard to go on top.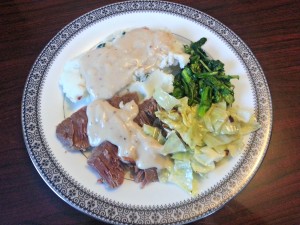 Saturday – Rubbed beef, focaccia bread and cauliflower. Marquis made a rub that included chipotle powder, onion powder, garlic powder, oregano, cumin, salt and brown sugar and rubbed in on a London broil. He seared both sides and then put it in the oven to finish cooking. The cauliflower was simply steamed and then we mixed in some butter and Tony Chachere's seasoning. The focaccia is a recipe that was given to me by my sister, tweaked just a touch to make it a little more clean eating, although it still has some white flour in it. This bread is great because it only takes about an hour from start to finish, there is no kneading and it always turns out yummy. I like to use this for sandwiches when I'm tired of regular sandwich bread. I have put the recipe here. This bread also stands well alone, but we butter it well for my skinny girls, and I like to dip mine in some olive oil with good balsamic vinegar and fresh cracked pepper.