This week I was a magician. Our food budget ended up being exactly this big —> <—, and yet I was somehow able to pull some tricks out of my hat that turned into some yummy meals. I'm pretty proud, but you can bet we're headed to the grocery store later tonight to restock the pantry!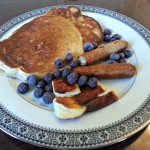 Sunday – Pancakes, sausage and fruit. I'll post my pancake recipe this next week. We try to make sure we buy nitrate-free sausage, although eventually we plan to be making all our own from scratch. You can also see a few pieces of Juustoleipa that we brought home from our daily farm adventure, so super yummy! Update: The pancake recipe is here.
Monday – Alphabet soup. I keep promising a recipe for soup, and I just haven't delivered yet because I want to do a full video tutorial. Soup is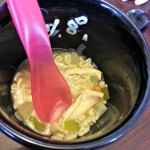 really so super easy and cheap, and yet so yummy and good for you. You really don't even need a recipe for soup once you know how to make it, so I really will get to work on that soon! Everyone should know how to make a basic soup from scratch.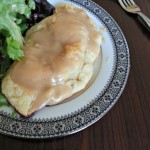 Tuesday – Cornish pasties and salad. Pasties are probably one of my favorite meals ever. The basic idea is you chop up some potatoes, onions and carrots and mix it in a bowl with some stew meat, a couple of tablespoons of Worcestershire sauce and some salt and pepper. You then roll out little rounds of your favorite pie crust recipe (there is a good whole wheat version here), put a bit of the filling in the middle, fold it over and crimp the edge into a little pocket pie. You then bake it until it's golden (I think about 40 minutes or so?) and serve with a little homemade gravy on top. We threw a salad on the side.
Wednesday – Burgers and salad. Awhile ago I had bought a lot of ground beef and made it all into a whole bunch of burgers which I then froze.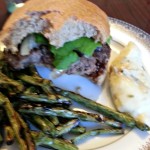 When I make burgers I just season them with some Worcestershire sauce and some salt and pepper. I pulled four of those out of the freezer and we grilled them up with some salad on the side. I like to make my own buns from scratch using this recipe with half the flour being whole wheat flour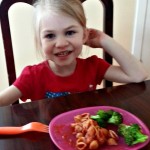 Thursday – Pasta with marinara and broccoli. This was super simple, but homey and yummy. We just had simple pasta shells with marinara that Marquis made from scratch. Of course, he didn't use a recipe, but here is one that I'm going to try the next time I make marinara. Marquis sauteed the broccoli with some butter and salt and pepper.
Friday – Enchiladas and salad. We had a lot of lettuce to use up this week, can you tell? My favorite recipe for enchiladas is here. The last time I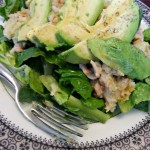 made them I doubled the batch and froze some. Nothing can be more simple than pulling a pan out of the freezer, plopping it into the oven and then eating a hot, delicious meal less than an hour later. There was barely any cleanup, too! So perfect. I threw mine on top of my salad and topped it with a ton of avocado, yum!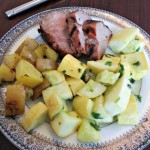 Saturday – Pork tenderloin, summer squash and gold potatoes. This is a creation of Marquis's that he is cooking right as I'm typing this up, and it smells wonderful! For the potatoes and the squash, they were chopped and mixed with olive oil, fresh parsley, salt, garlic powder and onion powder. He then put them in the oven to roast. For the pork tenderloin (not to be confused with pork loin, there is a big difference) he put on a rub that he had made previously so we aren't exactly sure what's in it, but we think it's brown sugar, salt, cumin, garlic powder and dried basil. He is cooking that out on the grill right now, yum!