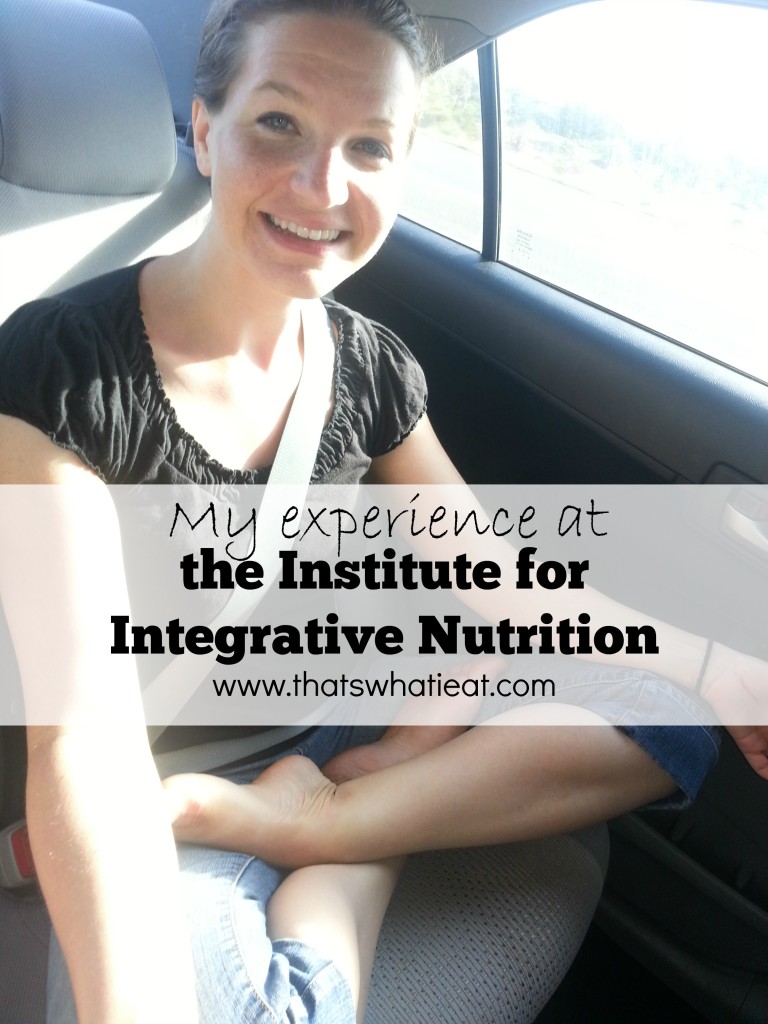 If you have read my story, you know that once I decided it was time to get healthy, I started to study like crazy. I devoured any information I could find about the correct ways to feed my body and to be healthy. As I searched for information online, I kept seeing ads for the Institute for Integrative Nutrition. (Of course, this was just good marketing, it is always a good idea to keep putting your product in front of the people who may be interested!)
I decided that I wanted to help people learn about food and nutrition, and that the best way to do that was to go back to school. I researched several different schools and soon realized that if I wanted to be a nutritionist or dietitian, I would spend 4 years and tens of thousands of dollars, and at the end I would end up with a job working in a hospital trying to decide what kid of formula to put in people's feeding tubes. That is not what I wanted to do at all! I wanted to help people before they landed in the hospital or developed chronic, debilitating disease. I wanted to help desperate women like me who didn't know how to wade through the muck of health information and misinformation out there to learn to be healthy and happy.
I didn't know what to call it at the time, but I wanted to be a health coach!
One day I finally clicked on one of those IIN ads, and it didn't take long to realize that this was exactly what I was looking for! Also, the teachers were a lineup of all of the nutrition experts who's books I had already been studying, which made me confident in the content. I was sold! I talked it over with Marquis, and next thing I knew I was signed up, awaiting my first day.
The way IIN works is that you have your own login to your virtual classroom, and every Monday there is a new module full of content for you to learn. I soon discovered that for me, the best way to get through the information was to listen to the lectures early in the mornings while I was exercising, . This made it really easy to fit it into my day! I still had to take time to work in the workbook and take the quizzes/tests, but it was very doable. I was determined not to get behind and to complete each module in the week it was given to me, and I'm happy to say that I did it!
Every single week I had an eye-opening "aha" moment.
There was always something I needed to hear right then. There was also tons of business training, which was so helpful for someone like me who has never started a business.
One thing that really appealed to me about IIN is that at the 6 month mark you receive an interim certificate and can start practicing as a health coach. They don't just preach nutrition to you, they want you to get out there helping people, so practicing and doing the work is part of the curriculum. In fact, they brag that some people even pay off their tuition before they graduate! That's pretty amazing. I can't tell you that I've paid off my tuition, but I can tell you that since the six month mark, I have been paying my tuition payments solely from my earnings as a health coach. What other school hands you a way to start paying the tuition back within just 6 months of starting? That's a pretty awesome benefit!
Would I do this again? In a heartbeat. I won't lie, it has been hard! I have fallen asleep at night reading my workbook and other school materials, I have listened to lectures in the car, and practiced health coaching consultations while my family was off having fun and doing activities I would have much rather been doing. But in the end, it has just taken a year of hard work to get me where I wanted to be. This has been one of the most worthwhile things I've done so far, and I know that the best is still yet to come!
I learned not only about nutrition, health coaching, and how to start a business, but I also learned how to be more happy. And who doesn't want that?
I would love to share my health coaching programs with you. Shoot me an email at Emily@thatswhatieat.com and let's set up a FREE Discovery Session. There is no obligation, I just love to talk to people about health and nutrition, and would love to help get you on the path to wellness!
If you feel like IIN might be the school for you, too, mention my name to them, they are running some great specials right now that will open up some awesome savings for you. You're welcome!